Audrey Lam Finds International Success With Team USA
5,779 miles away from her home in Piedmont, California, senior Audrey Lam races across a Spanish soccer field, dressed head to toe in red, white, and blue. 
As one of 24 players in the nation called to play for the U.S. under-17 women's youth national soccer team, Lam spent the beginning of her senior year in Madrid where she competed in two games against Spain, and one against Germany. These games were the final events for the USA in preparation for the 2022 FIFA U-17 Women's World Cup that began in India on Oct. 11. Lam is not participating in the competition.
Earlier this summer, Lam was selected for the team after national scouts came to see her play at a soccer showcase in Oceanside, San Diego.
"There were a bunch of scouts that came to watch me and I caught their attention," Lam said. "They emailed me a month after that letting me know that I got called up to play."
Lam has been playing for the highly competitive Lamorinda Soccer Club (LMSC), in Moraga, California, for the past 7 years.
Although across the world Lam maintained her same soccer technique, she said she was able to elevate her game to a new level. 
"The coaching style at my club and with the national team is very similar in the sense that our goal is to play beautiful soccer while dominating the game," Lam said. "Playing against Spain and Germany showed me what the highest level of soccer looked like. Both teams were incredibly skilled, smart, athletic, and creative."
While in Spain, the team did not only compete in matches – they spent hours on and off the field improving and working on their play. 
"Along with the games, we had trainings and meetings every day to focus on what our goals were for each day and how we can better ourselves as a team and as teammates," Lam said. "Playing with incredible soccer players and great people helped me learn more and just become a better person and player. It also showed me what the highest level can be in what I can achieve."
Even though the competition was challenging, and required her to be away from home for 17 days, Lam was also exposed to Spanish culture. During her time in Spain, Lam was able to see a live Atlético de Madrid game with her team.
"It was a great experience to get a feeling of what soccer was like in a different country. The stadium was really nice. And just the overall fan-base was incredible there," Lam said.
Lam began playing soccer when she was four years old, but she did not truly fall in love with the game until she started playing for LMSC in 2015, and started playing more seriously. Since then, she has committed an immense amount of time to the sport.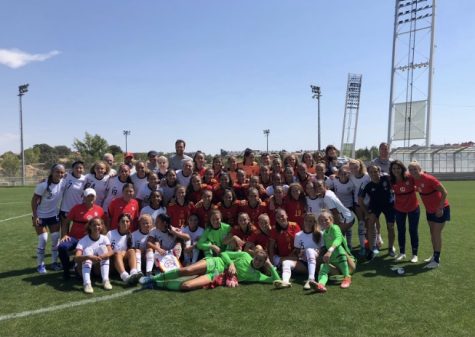 "She is willing to put in work everyday. She misses events and hanging out with friends just to be out on the field to get better," said Lam's high school soccer and LMSC teammate Cameron Lorin. 
Lam's selection for the national team is not the only mark of her success. Her emphasis on teamwork and support of her fellow teammates is the thing that truly sets her apart from other players, according to Lam's LMSC and PHS teammate Charlotte Davies. Although she has only played for PHS' own varsity team for one year due to conflicts with her club squad, her teammates say that she has made a large impact on the group.
"She's the type of player that is very supportive and backs up everyone on her team," Davies said. "She's always running back to get on defense, even though she plays midfield, which not everyone does."
Earning a spot on the national team was an amazing personal achievement for Lam, and one the Piedmont community hasn't seen before, according to Piedmont women's soccer varsity head coach Dan Chubbock. Lam is the first Piedmont player to represent the US national team at her age and level, said Chubbock.
"Audrey is definitely up there as one of the sort of top players that this school has had," Chubbock said. "It's been an honor to work with her."
In April 2021, Lam announced her verbal commitment to play Division 1 soccer at Brown University, which she said would give her more of an opportunity to play professionally after college.
"I think having a good degree and setting myself up for the right path for soccer would be the best hope for me," Lam said. 
After college, Lam hopes to either be drafted into the U.S. National Women's Soccer League, or play professionally overseas. 
"Wherever my journey leads me, I'll go." Lam said.