Highlander Sports Teams Battle in NCS Playoffs
PHS's Boys Water Polo Team, Girls Tennis Team, Girls Golf team, and Girls and Boys Cross Country team capped off their seasons with playoff appearances in the NCS tournaments for their respective sports throughout Nov.  Their work throughout the fall season led to playoff berths for all five teams.
Boys Water Polo made it to the Semifinal of NCS and lost against the Marin Academy Wildcats in a one score game. 
Boys Water Polo won WACC and had a 20-5 season, winning the Labor Day Bash Tournament along the way.
Girls Tennis sent three doubles teams and two singles players to the NCS match, which was hours away. 
They finished first in the league for the first time in four years in a self proclaimed "bounce-back" season.
Boys Cross Country finished first in WACC behind Berkeley HS and were ranked as the second Division 4 school in NCS going into the championship, before they placed fifth at the NCS meet in Hayward.
Girls Cross country placed eight at NCS and sent individual qualifier freshman Skylar Best to the State Championship meet. 
In WACC, the girls finished fourth with two runners being awarded all league honors.
Girls Golf finished third in League and sent Sophomore Mei Assailian to compete in NCS individually.
The boys water polo team won league for the second year in a row, Water Polo Co-Captain and Junior George Stein said.
Stein said that their physical and competitive, all or nothing playstyle led them to their second play off appearance in two years.
 "We have a very strong defensive lineup led by Dariush Kashani, our varsity goalie and we really have just a great all around six players who are willing to put it all out there,"' Stein said.
The team was eliminated by the Marin Academy Wildcats in the North Coast Section Semifinals, in an extremely close 5-6 loss Stein said. Although frustrated with their loss, Stein said that the team's juniors stepped up and took a strong leadership role, making a stronger, more competent team than last year.
Capping off a 17 win season, Girls tennis also moved onto NCS Division 2 Playoffs. With a 14 match winning streak to finish the year, the team finished ranked third in NCS division 2.
 "We really worked as a team and became undefeated at the end," said 10th grade tennis player Abigail Call.
After a semifinal appearance in NCS, the team sent three doubles teams (Seniors Mara Laforte and Michaela Bini, Sophomore Emma Eisemon and Junior Cecelia DeFazio, and Senior Anne Jumper and Freshman Kate Jumper) and two singles players (Junior Tanya Kononova and Sophomore Carolina Romanczuk) to NCS individually. Kononova placed fourth at the championship and brought home a medal in the Division 2 NCS singles category.
The Boys Cross Country team finished fifth at the course in Hayward, disappointing many of the runners, senior Parker Long said.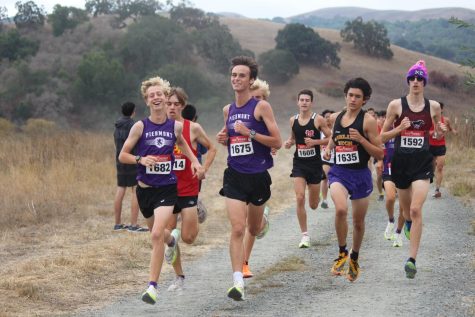 "The top three teams go to the state championship so we missed it, which is tough as we were ranked #2 going into it," Long said.
The highest finisher for the Highlanders was Long in 21st place, followed by Schulte-Sasse in 22nd, Taylor in 23rd, Lee in the 24th spot.
The team, while frustrated with their result, is not trying to get disheartened. "We're trying to look past this loss and towards the future. Track is next and we are taking a few weeks off [before] training," Long said.
Girls Cross Country finished fourth in league and eighth at NCS, missing out on a State Championship spot by five places. Freshman Skylar Best qualified individually for the state meet because of her top fourteen finish, which allowed her to move on to state without the qualification of the whole team.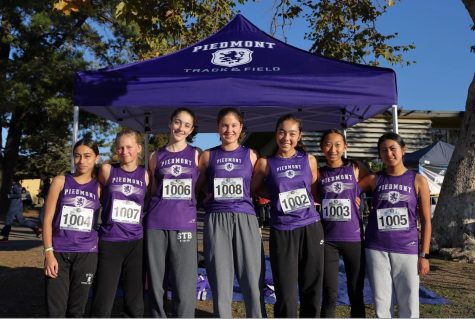 Best placed 64th of 201 at the state meet. 
Best said, "it was just so exciting to be in Fresno for the state meet and just be around all of the teams in California that made it and a lot of fast runners."
The women's golf team placed third in WACC and the whole team qualified for the NCS. They sent Sophomore Mei Assailian as their only participant at the NCS tournament because many of the athletes did not want to miss more school than they already had, Assailian said.
Although she was representing the Highlanders at the meet, Assailian said that she competed as and was scored as an individual.
Representing Piedmont alone, Assailian played the eighteen holes accompanied by her coach and her father. Assailian made the highlanders proud with a 30th place out of 120 at the NCS final tournament in Petaluma.