Student Spotlight: Record-Breaker AJ Harris
Four years ago, Basketball Star and Senior AJ Harris was a freshman on JV, fighting to earn a Varsity spot. Now, Harris holds Piedmont High's all-time men's scoring record for basketball through years of hard work and dedication.
How many points did you score in your career?
"I finished with 1581 [points]," Harris said.
When you started playing High School Basketball, did you think you would break the scoring record?
"No. Definitely not. When I was a freshman on JV, I was just trying to get to varsity. The next year I wasn't thinking about any of that, just trying to compete and get better. My dad always told me that if you do not focus on that stuff, keep working and put your head down, the other stuff [success] will come," Harris said.
Did breaking the scoring record have any special meaning to you?
"It feels good to be recognized amongst a lot of other really good players that have come through Piedmont, and a lot of big names, and a lot of people that have worked really hard to be up there," Harris said.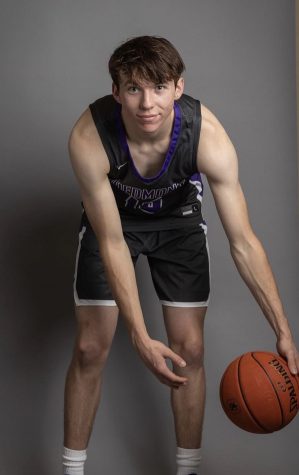 How much basketball do you play daily?
"There are a lot of early mornings where I would get up at 5:30 am and go to the Oakland YMCA at 6:00 am and just shoot, shoot, shoot. During covid we didn't think we were going to have a season so I was in my backyard at 6:00 am and my neighbors came by and said 'you got to stop, you can't dribble the basketball at 6:00 am when I am in my bed'," Harris said.
Do you have any idols or players you look up to?
"I definitely look up to my older brother Luke, who's playing at Carleton College in Minnesota right now. And then Jojo Murphy who's playing at Chico State I mean, we grew up together and we've been playing one on one for forever. I've always looked up to my dad who also played college basketball. He's kind of taught me everything I know and how to shoot. He's always in the gym with me. And then look up to Larry Bird as a pro. I try to play like him," Harris said.
What are you doing next year after you graduate?
"I'm going to play basketball at Emory University in Atlanta, and I'm really excited about that. I love the coach and the system and I feel like I fit in very well with them and how they play," Harris said.
"
There is a great quote that represents AJ: if it was easy, everybody would do it.
— Ben Spencer, men's varsity basketball coach