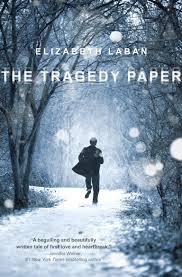 The Tragedy Paper by Elizabeth Laban is another of those well-written, cleverly structured, and engrossing novels that keep appearing on the market. Aren't they just the worst?
This particular one deals with the stories of two young men, seniors in consecutive years at a small boarding high school in upstate New York. The elder, a shy albino named Tim Macbeth, promises the younger, Duncan, that if he listens to a series of CDs recorded with the story of his senior year, he will be able to write an outstanding tragedy paper. At their school, the tragedy paper is the culmination of all of their years of education, demonstrating varied skills. The knowledge that there will be a great tragedy somewhere in Tim's story keeps the reader on tenterhooks—Duncan, however, knows the tragic ending and sometimes references it in his narration, but only vaguely.
Tim's story involves a secret relationship with Vanessa, another senior who is in many ways his opposite. Duncan's sections mirror Tim's, with similar plot points happening at the same time in the book. This shows Duncan's constant fear of repeating Tim's mistakes and ending his year in a situation just as tragic as the one before.
The structure of the novel, in which Duncan narrates and listens to Tim's CDs, creates a suspense that kept me curious and cast a definite tragic light over Tim's otherwise happy recollections of his secret relationship with another Irving School senior, Vanessa. Laban also used the format to synchronize events and similar emotions that the two boys experienced, using each to reveal more of the other.
I really enjoyed this book. It was short, but The Tragedy Paper played with deep ideas concerning the tragic nature of life. I would recommend this book to anyone looking for a thought-provoking and engrossing read that's not too big of a commitment at the end of the school year.