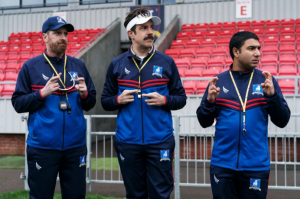 You're coming home from a long week, your energy completely drained, and you throw yourself on the couch and prop your feet up off the floor ready to spend the rest of your evening in front of the television with your family.  Unfortunately the classic weekend family squabble ensues over what you should watch together and sometimes it can get ugly.  However there is now a clear choice for you and your family and you can put an end to your arguments and bring your family and/or friends together.  Heck, the solution is simple: it's the hottest show on Apple TV , Ted Lasso.   Ted Lasso is the perfect feel-good TV show to help you jump right into your weekend with some flare.
 The show starts off with a unique twist where Ted Lasso (played by Jason Sudeikis), an American Football coach, is hired by Rebecca Welton (played by Hannah Waddingham) of English Premier League Football team AFC Richmond.  Ted thought that his new position in England was a job as a professional coach for a football team but it turned out to be a job as manager of a professional soccer club. Even though he knows nothing about soccer, he decides to take the job saying "Hey takin' on a challenge is a lot like ridin' a horse.  If you're comfortable while you're doin' it, you're probably doin' it wrong".
Producer Bill Lawrence did an excellent job creating a wide cast of different complex characters all with different hardships, mistakes, hopes, and aspirations.  This creates not only an environment full of unity but the show also does an excellent job at addressing issues of mental health while keeping up with a feel good vibe.  Each character fits a unique puzzle in the fight for AFC Richmond's success in the English Premier League. First, there's Coach Ted Lasso who is the most positive person by a wide margin on the show. He gives off an infectious charisma that he uses to bring all the members of AFC Richmond together.  Then there's Rebecca Welton the owner of the club who is headstrong and extremely resourceful.  She keeps careful watch over the team and makes sure that everything is running smoothly.  Then we have the two main players of AFC Richmond.  The hot-headed veteran midfielder and captain Roy Kent (Brett Goldstein) and the young, snobby, striker Jamie Tartt (Phil Dunster).  The rest of the Richmond family is rounded out by different players, staff, and family providing a spark to the structure of the program.  Each of the characters have distinct relationships with one another and each of their journeys helps the viewer learn about how to overcome lifelong challenges. Viewers follow along storylines that involve divorce, retirement, a difficult relationship with one's father and so much more.  The development of the characters is what reels the viewer in every week. You can't help getting attached to them because of their background and their uniqueness and how they fit in with AFC Richmond.
 Because of its unique storyline, filled with a variety of characters filled with emotion the show captivates audiences and turns heads. It calls to you to follow Ted's lead and "Believe in hope and Believe in BELIEVE."  This show gives viewers a chance to take a break and "Be a Goldfish" like the players and enter a world where Ted brings you along on his journey of "helping these young fellas be the best version of themselves on and off the field".