PHS men's varsity basketball has started out their season with an 18-3 record and the champions of two tournaments, which can be attributed to the comradery of the team.
"Right now we're ranked No. 2 in division four and about 80 in all divisions in California,"  varsity captain senior Sean Rodriguez said. "Last year we were ranked around 400 in state, so this year is much better so far."
The team has already won two championships for tournaments and has a good feeling about winning the league, getting a home NCS game and even progressing further, Rodriguez said.
Another local team who has started off their season with a strong record is the Golden State warriors, who have had an effect on surrounding basketball teams, such as the Highlanders.
"Th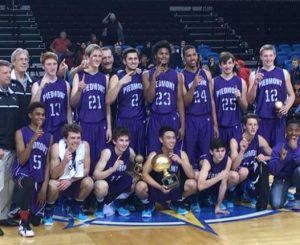 ey're[The Warriors] are in our backyard, and any coach in the Bay Area who isn't tapping into something the warriors are doing, is missing the boat," men's varsity coach Chris Lavdiotis said. "For us it is attitude, team comradery, players understanding their roles as well as using some of their early offense and special plays."
The players chose a team motto that emulates the warriors on many different points. A lot of what they are doing stems from seeing a championship team who gets along, enjoys playing, plays at a fast pace and plays together, Lavdiotis said.
"I love this team," Lavdiotis said. "Building relationships with my players is one of my favorite things about coaching."
Junior Nick Pacult said that they do a lot of team bonding. "As a group, our team comradery is very strong and consists of some really great guys," he said.